OTC SPORTS RULES PAGE

Welcome to OTC Sports! We operate under NFHS rules with some additional guidelines to ensure fair play and sportsmanship. Please read and adhere to the following rules:

RE-CLASSIFICATION OF TEAMS
As the new season begins, if your current team has more than 6 players that played on a AAA team the prior season then that current team must sanction as AAA unless otherwise approved by OTC Sports Admin.
OTC Sports monitors teams' records and re-classifies teams that meet these criteria after each weekend of play:

Teams consistently winning by large margins will be re-classified.
Win/loss records will be considered.

GUEST PLAYERS STIPULATIONS

Effective 12-10-22, guest players are allowed under specific conditions:

Open Events: Up to 2 guest players (AA, AAA, or MAJOR).
AA Events: Up to 2 AA guest players may be added.
AAA Events: Up to 2 AAA guest players may be added.
Major Events: Up to 2 MAJOR guest players may be added.
All guest players are automatically removed from the roster on Monday and are not re-classified. Any. players not removed by the team admin will be reclassified.

NO PETS ALLOWED
Pets are not allowed at any event.

NO BOOM BOXES OR MUSIC
Music is not allowed at any time. There are too many fields that are too close to each other.

GAME BALLS
Teams provide their own baseballs due to preferences.

GATE FEES
All gate fees are $10 per person and are non-refundable. Ages 10 and under get in free.

1. ENSURING CORRECT RULE INTERPRETATIONS

2. COACHES/PARENTS CONDUCT

3. AGE CONTROL DATE/GRADE BASED PLAYERS

4. BANNED BATS LIST

5. PLAYER BAT RULES
6. TEAM REMOVAL DEADLINE/FINES
7. TEAM AWARDS

8. ROSTER GUIDELINES

9. FIELD DIMENSIONS
10. PITCHING GUIDELINES
11. BATTING LINEUPS

12. COURTESY RUNNERS

13. RUN RULES

14. HEADFIRST SLIDES

15. SLASH BUNTS

16. HOME TEAM DETERMINATION

17. PROTEST

18. EVENT UNIFORMS

19. GAME TIME LENGTHS
20. OFFICIAL GAMES
21. EVENT BASEBALLS

22. SEEDINGS/TIEBREAKERS
23. STEEL SPIKES

24. SCORED GAME FORFEITS

25. COACH PITCH RULES
1. ENSURING CORRECT RULE INTERPRETATIONS

All OTC Sports umpires possess radios and maintain direct communication with the Umpire in Charge (UIC).

Correct rulings are ensured by following the protocol of radio communication with the UIC.

The game will not be stopped for judgment calls; UIC contact is reserved for rule interpretations only.

If a rule appears incorrect, request the umpire to pause the game for UIC to report for consultation.

UIC will be contacted, and the accurate ruling will be determined.

Compliance with this protocol guarantees accurate rulings.

Failure to follow this protocol forfeits the opportunity to seek rule interpretation post-game.

2. OTC SPORTS COACHES/PARENTS CONDUCT POLICY GUIDELINES
Any verbal or physical abuse towards OTC sports umpires or staff members will result in on-site police intervention and immediate removal. Individuals displaying abusive behavior will be banned from attending future OTC events.

3. AGE CONTROL DATE/GRADE BASED PLAYERS "2023/2024 SEASON

Each team is permitted a maximum of 2 grade-based players.

Rosters must not exceed this limit for grade-based players.

Coaches are required to possess valid documentation for each grade-based player.

Acceptable documentation includes report cards or signed documents from the principal confirming grade-based status.

A $300 protest fee applies for questioning a grade-based player's eligibility.

Coaches without proper documentation during a protest will have that player disqualified from the event.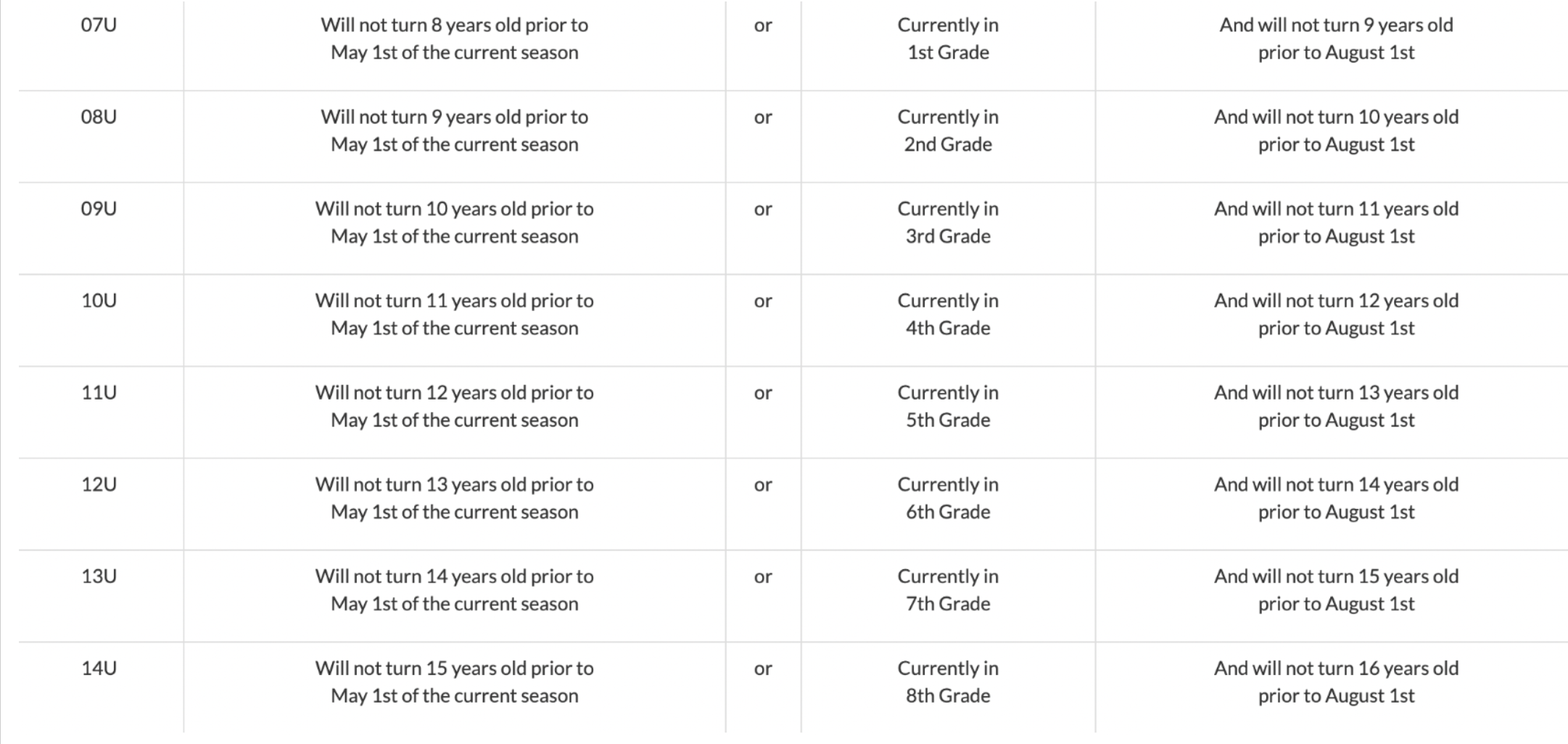 4. 2023/2024 BANNED BATS LIST
The following baseball bats were properly marked by an authorized to indicate that they would be allowed in OTC Sports play, but were subsequently withdrawn by the manufacturer or found to be disallowed. Any BBCOR bat withdrawn by the NCAA or NFHS will also be withdrawn by OTC Sports. Any USA Baseball stamped bat withdrawn by USA Baseball will also be withdrawn by OTC Sports.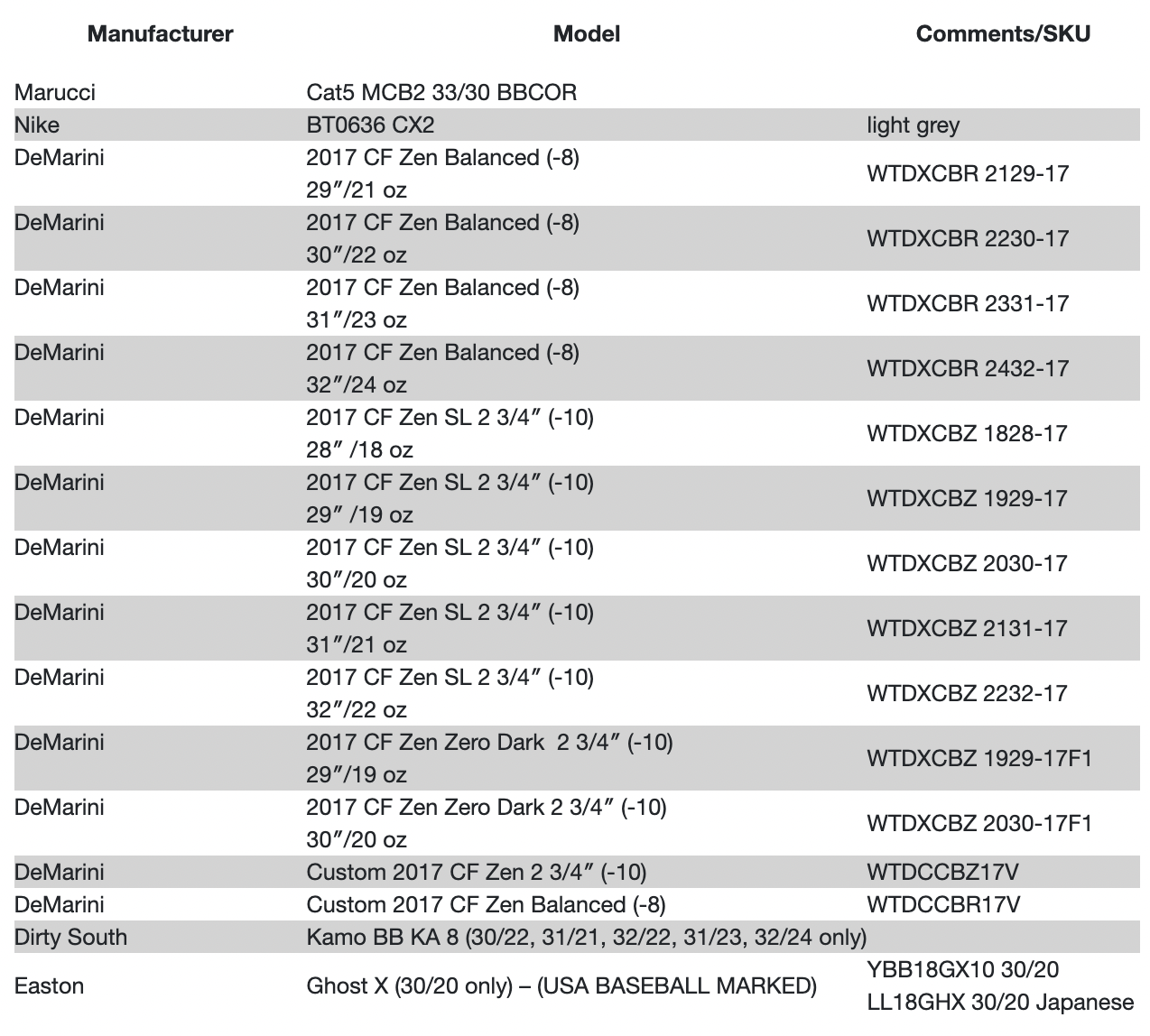 5. PLAYER BAT RULES

All bats used must conform to baseball regulations.

USA bats are permitted.

Wood bats that are unaltered and free from defects are allowed.

BBCOR certified bats are permissible unless restricted by NFHS.

Other bats must bear the stamp "1.15" or display a certified BESR rating imprint.

Players aged 7U-12U are not restricted by weight/length ratios for non-wood bats.
12U teams playing up in 13U must abide by 13U bat rules.

Players aged 13U must use -3 -5 -8 non-wood or authorized wood bat.
13U teams playing up in 14U must abide by 14U bat rules.
Players aged 14U must use -3 -5 non-wood or authorized wood bat.
Players 15U must swing -3 non-wood or authorized wood bat.

These rules are effective immediately and apply to all OTC Sports events. Failure to adhere to these rules may result in penalties or disqualification. It is the responsibility of coaches, players, and parents to understand and comply with these guidelines.
6. TEAM REMOVAL DEADLINE/FINES

Teams withdrawing from a scheduled event less than seven days prior will incur a $200 fine, restricting further participation until the fine is paid.

Teams pulling out after pool play schedules are created will face a $300 fine and subsequent participation suspension.

Failure to appear at a scheduled event will result in a $500 fine and temporary suspension from OTC sports until the fine is paid.

7. TEAM AWARDS

Awards presentations are not conducted; coaches present awards to players in their unique manner. We feel it is more unique when coaches hand players awards.

Awards will not be issued if pool play is incomplete.

8. ROSTER GUIDELINES

Teams must establish an OTC Sports account for complete team management.

Copies of players' birth certificates must be available at each event.

Rosters must be finalized online by midnight prior to the event start.

Roster adjustments can be made weekly within designated limits.

Players cannot participate for two teams in the same event, leading to players removed for all involved teams.

Playing up one age requires players from the same age group.

Unlisted players on a roster will be removed from the event "the director may overrule this depending on the situation".

Player names on rosters must match birth certificates.

Numbers on the lineup sheet must match participating players' numbers.

9. FIELD DIMENSIONS

Field fence distances vary by venue.

Coach pitch uses 60 feet bases.

Age-specific field dimensions:

9U-10U: 46 feet pitching, 65 feet base paths.

11U-12U: 50 feet pitching, 70 feet base paths.

13U: 54 feet pitching, 80 feet base paths.

14U: 60 feet pitching, 90 feet base paths.
15U: 60 feet pitching,90 feet base path.

10. PITCHING GUIDELINES

Innings pitched are not restricted daily for two-day events, prioritizing coaches' responsibility for arm safety.
Pitching innings are logged on signed game cards, available for inspection at team check-in.

2-day events:

9U-12U: 8 innings total.

13U-15U: 10 innings total.

1-day events: All ages allowed 5 innings total.

These rules apply to all OTC Sports events and serve to ensure fair play, safety, and the best possible experience for all participants.
Teams and individuals are responsible for understanding and adhering to these guidelines.

11. BATTING LINEUPS

Teams have four lineup options:

Bat 9 straight.

Bat 9 with a Designated Hitter (DH) and play 9.

Bat 10 with an Extra Hitter (EH) and play 10.

Bat the entire lineup without DH or EH.

Continuous batting order with defensive substitutions applies only to the entire lineup.

If a player cannot bat due to injury or sickness in a full lineup, an appeal by the opposing coach may result in an automatic out.

In case of severe injury or sickness preventing further participation, the lineup will be adjusted, and the player excluded.
12. COURTESY RUNNERS

Pitchers or catchers may use a courtesy runner upon reaching base.

The courtesy runner must be a legal substitute, including reentry-eligible starters.

In full lineup batting, the last batted out is the courtesy runner.

A courtesy runner can be used only once per inning.

If needed twice, another substitute can replace the last batted out.
13. RUN RULES

Run rules apply in all games:

12 runs after 3 innings.

10 runs after 4 innings.

8 runs after 5 innings.

14. HEADFIRST SLIDES

Headfirst slides are prohibited for ages 8-12 with helmets featuring face guards, C-flaps, or non-breakaway chinstraps.

Exception for players returning to any base.

Offending teams receive a warning for the first infraction; subsequent infractions result in a delayed dead ball out.

15. SLASH BUNTS

Slash bunting is banned in all ages.

Players attempting a slash bunt are called out, regardless of contact.

16. HOME TEAM DETERMINATION

Home team determined by a coin flip during the home plate meeting.

In elimination games, the highest seeded team is the home team.

Home team provides the official scorekeeper using a written scorebook. An Ipad is NOT an official scorebook.

17. PROTEST

Protests require a $300 cash fee before any protest.

Protests are limited to player eligibility.

Losing a protest forfeits the protest fee.

18. EVENT UNIFORMS

Uniforms should be of the same color and style for all team players.

Fall baseball has leniency regarding uniforms.

Catchers may wear two-piece uniforms with helmet and face mask.

19. OFFICIAL GAME TIMES

No drop-dead time; all games must be completed.

One-day events all ages have 1-hour game times.

Coach pitch two-day events have 1-hour/6-inning/run-rule.

9U-12U: Two-day events have 1:30/6-inning/run-rule.

13U-15U: Two-day events have 1:30/7-inning/run-rule.

Elimination games must be played to completion; ties resolved via international tiebreaker.

20. OFFICIAL GAMES

If an event is canceled, games are official if both teams complete 3.5 innings with the home team leading or 4 complete innings.

Ties are resolved by evaluating the last completed inning for both teams.

Bracket play winners determined by least runs allowed, run differential (max 7), most runs scored (max 7), points, and coin flip.

21. GAME BASEBALLS

Teams provide their own official baseballs due to preference.

22. SEEDING/TIEBREAKERS

Bracket play seedings are determined in the order below:
Least runs allowed
Run differential (max 7 runs)
Most runs scored (max 7 runs)
Points
Coin flip on video for both teams to view

23. STEEL SPIKES

Steel spikes only allowed in ages 13U and 14U, prohibited on all turf fields and portable mounts.

24. GAME FORFEITS

Forfeits result in a 7-0 score in favor of the winning team.

25. COACH PITCH RULES

POOL PLAY GAMES

If time expires during the top of the inning, the home team bats only if they are losing, even if they can't tie or win.

If the home team is winning in the top of the inning and time runs out, the game ends if the visiting team can't potentially win by scoring 7 runs.

The score is recorded from the previous inning.

No infield fly rule applies in coach pitch.

Intentional walks are not allowed.

Runners cannot leave the base until the hitter makes contact.
TEAM COMPOSITION

A regulation team consists of 9 to 10 players.

Not all coach pitch players are required to play.

Lineup guidelines are outlined in section #10.

Teams can have either 9 or 10 defensive players.

One player must play pitching, and one must catch.

For teams with 10 defensive players, 2 must play the outfield positions.

Umpires will monitor outfielders playing infield positions and notify coaches.
GAME START/FINISH

A minimum of 8 players is required to start and finish a game; an out is taken for the 9th player.

Dropping below 8 players results in a forfeit, with the score at the time of forfeit unless the forfeiting team is winning (scored 7-0).

A 10-foot arc determines fair balls; a 30-foot arc restricts player movement until ball contact.
PITCHING

Pitching mark is 40ft from home plate within the safety circle.

Coaches may pitch from the front of the safety circle.

Pitcher must have one foot in the safety circle until ball contact.

Leaving early incurs play continuation, with the offensive team choosing play result or no pitch enforcement.
BATTING

Each batter receives six pitches or three strikes.

Fouling on the sixth pitch allows continuation until no contact or in-play hit.

A no-swing on the sixth pitch is an out.

Max 7 runs or 3 outs per inning.

A baseball hitting a pitching coach is a foul ball, unintentional or intentional based on umpire judgment.

Bunting is not permitted.

COACHES

Offensive 1st base, 3rd base, and pitching coaches are on-field during play.

Defensive coaches are limited to the area in front of their dugout during play.

Umpires call time after each play when it is dead:

All runners stop attempting to advance.

The ball is controlled by an infielder.

No imminent defensive play is pending.

These rules are specific to Coach Pitch games in OTC Sports events, ensuring a controlled and enjoyable environment for players, coaches, and spectators. Understanding and adhering to these guidelines are the responsibility of all involved parties.